In 2014 the Board of Play Australia at the 100 Year Birthday Celebration on November 14 announced the introduction of the Joan Matheson Distinguished Service Award, in memory of an exceptional woman who made a life-long contribution to the development of Play Australia (formerly PRAV, the Playgrounds & Recreation Association of Victoria). The Board wishes to ensure that our history remembers Joan in an appropriate way, and thus the introduction of this award.

The Joan Matheson Distinguished Service Award will be awarded to a person in recognition of their significant contribution made to the development, promotion and advocacy of play in Australia.

The winner will receive an Honorary Life Membership of Play Australia and a commemorative plaque acknowledging the awarding of this prestigious honour.
Who was Joan Matheson?
Joan was born in 1917 and died in 2008;
Joan undertook a National Fitness Course, before there were any Recreation courses operating. Well before Life Be In It;
She was probably employed as a Play Leader before becoming the Director of PRAV;
In 1944 she became the Director of PRAV – and in 1983 she moved onto the Committee of Management;
She performed the role of the Secretariat of the IPA IN 1961 when it began;
Minutes record that the first ever IPA meeting was held in Brisbane October 10, 1979;
In 1980 and 1981 considerable national networking took place, and Joan attended a number of overseas conferences, including IPRA and IPA;
She was a woman with a great sense of authority, determination, and would never take no for an answer. "As stubborn as an ox" (Sally Jeavons);
She was inspiring, and a very great networker. A lover of dancing, and a committed yoga participant, and is remembered as having a very beautiful posture. Calm, blond/white hair, funny, interested in people, and their experiences;
She trained Play Leaders, which this was her mission. She trained Play Leaders for services in Carlton in Curtain Square, the Ivy Brookes Centre the Carlton Gardens and in South Melbourne. May Hughes who is with us tonight, was one of those Play Leaders, and we have a lovely photo of Joan and this group of trainee Play Leaders;
 
Both Mary and Sally Jeavons remember going to Government House with Joan in about 1982.
Joan was recognised as having made an outstanding contribution towards the promotion of play in Australia, and thus it is appropriate to name this prestigious Award in her memory.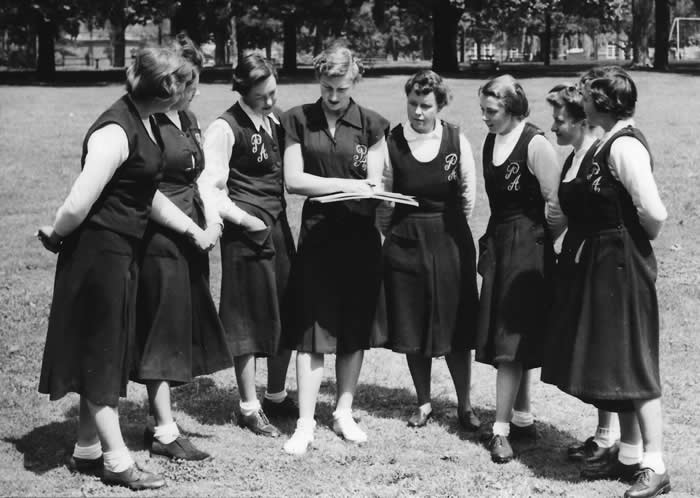 The 'Play Leaders' L-R May Smith, Gwen Cooper, Isobel Priestly, Joan Matheson, Miss Best, Miss Lois Logan, Miss Williams, Deidre Theggie.

We also have attached, a number of newspaper clippings describing Joan's overseas trips and her work with PRAV during these early year.
Recipients of the Award