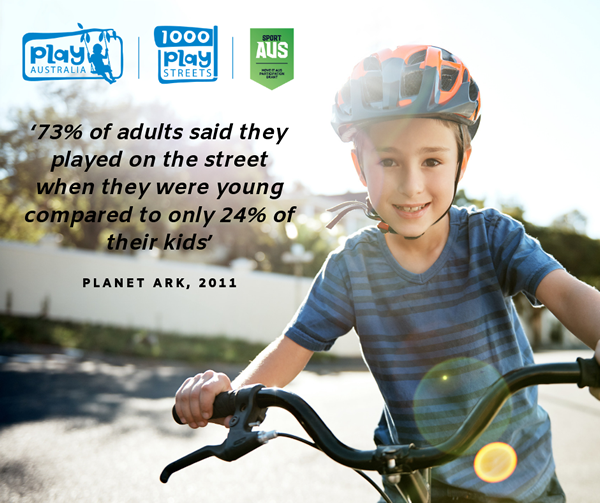 In Australia we have some of the best playgrounds and parks in the world that support children and families to be active, however if children don't live next door to these kinds of spaces, they can often be reliant on a parent/guardian for transport, and this can be problematic. 
Today, in many suburban communities around Australia, outdoor spaces for play are limited due to lack of adequate green space in easy walking distance from home and shrinking backyards.
Interestingly, it has been reported that our Australian backyards today are less than a third of the size of backyards in the 1980s, and we are seeing more children residing in apartments and units than ever before, as our density of living increases.
In addition, the rise of technology and time spent on screens, means that our children spend too much time sitting.
Overlay that with parental fears over safety outdoors - including: potential injuries, stranger danger and traffic accidents - equals a generation of children with less opportunity to go outside and play.
Due to population growth and our increase in living density, we now see cars taking over our roads and unfortunately we now have a generation of parents who fear for their child's safety even on the quietest of residential roads, to the extent that children will be kept inside to keep them as safe as possible.
In combination, these factors are having dire impacts on the health and wellbeing of our children, in fact experts are worried that with the rise of sedentary lifestyles and higher rates of obesity, we will have a generation of children who are facing a shorter life expectancy than their parents.
We all need to recognise that our communities have a problem with their physical health:
1 in 4 children (2-17 years) and 2 in 3 adults are overweight or obese (AIHW, 2019)
And we are less connected with our neighbours and our mental wellbeing is suffering:
1 in 3 people have no neighbours they see or hear from on a monthly basis, and nearly 1 in 2 people have no neighbours they can call for help (APS, 2018)
Play Australia is seeking to turn this tide by leading the 1000 Play Streets movement, recognising that in days gone by, children played on residential streets regularly which contributed to more active lifestyles and better relationships with neighbours.
This is WHY the movement is so important – to improve the health and wellbeing of Australian children and communities.