Case Study 1: Playing Out – United Kingdom
We are proud to call Playing Out our Global Neighbours and the inspiration behind 1000 Play Streets.
Playing Out is an example of a parent-led movement that has captured the hearts of communities across the UK and engaged policymakers into building better temporary street closure models that support regular play.
Over the course of 10 years Playing Out has scaled their street play movement to over 1000 UK streets. Their approach is focussed on resident-led temporary street closures.
Here are some of their achievements that we think are pretty fantastic:
Bristol City Council has reduced the red tape for local communities by supporting 12 month permits for residents to regularly close their roads
Councils across the UK issue temporary road closure permits to communities without requiring them to obtain public liability cover (via a waiver)
Through strong community-led advocacy, the national roads authority has issued a statement in support of street play
Legislation has been changed at a national level to remove barriers for residents (i.e. they no longer have to advertise a regular street closure)
Playing Out received a National Sport Award for their ongoing contribution to improving physical activity levels across the UK
For more information visit: https://playingout.net/about/playing-story/
Or watch their video here: https://vimeo.com/136183455
Case Study 2: The Dutch 'Woonerf' - Holland
In Holland they have taken much bolder steps to normalise street play and calm traffic within residential streets through the creative urban design of roads.
The 'Woonerf' is a living street where children at play, pedestrians and cyclists have legal priority over motorists, which means people are the primary concern, not cars.
This is achieved through the use of shared zoning and traffic calming, which includes lower speed limits (i.e. 7-15km per hour) and winding paved roads that may have areas for community play or street furniture to increase social opportunities.
The idea was pioneered in the 1960s by the Dutch government, in response to disgruntled residents who were unhappy at the amount of high-speed traffic coming through their once-safe and quiet neighbourhood.
For more information visit: https://www.humankind.city/post/woonerf-inclusive-and-livable-dutch-street
Or check out Life on a Dutch Woonerf (Living Street) by Streetfilms on Youtube.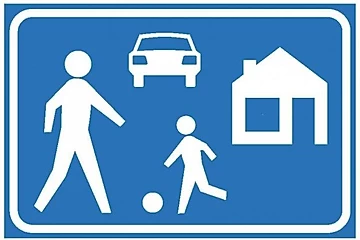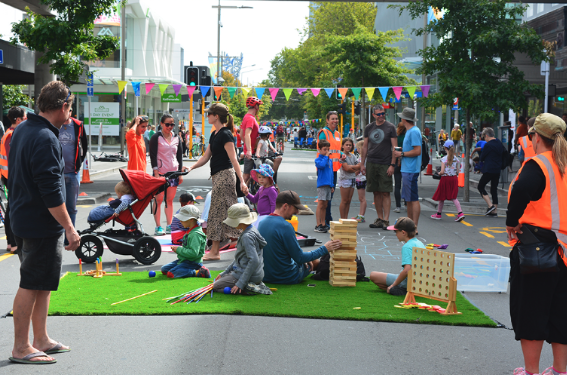 Case Study 3: : Innovating Streets Program - New Zealand Transport Authority
Street play in New Zealand is undergoing more coordinated action in recent times …we think they got word that Australia was becoming more active in this space!
Play Australia is excited to see the New Zealand Transport Authority (NZTA) leading the charge, which means they are well-placed to improve their policies and legislation from the outset (and ongoing) to enable communities to get involved.
NZTA have been partnering with a number of councils across NZ to help with funding, planning, delivery and monitoring as part of their Innovating Streets Program which is about creating more people friendly spaces in NZ towns and cities.
You can read about their street play case studies here: https://www.nzta.govt.nz/roads-and-rail/innovating-streets/case-studies/
So, what does this mean for Australia looking forward?
In reflecting on these case studies, it is evident there are some amazing opportunities for us to investigate within an Australian context – including, but not limited to:
12 month permits supported by LGAs for residents to regularly close their streets for play
Use of shared zoning and urban design for quiet residential streets to further normalise street play for children
Stronger support from our state and national roads authorities to explore policy and legislative improvements
Valuing locally led approaches to create lasting change, particularly with strong leadership from residents
Play Australia is excited to explore these opportunities (plus more) with interested communities, LGAs and roads authorities.
We will be actively seeking state and national funding to provide support for targeted interventions over 2020-25 and we recognise that it will be important to link with LGAs and communities to support these submissions (as opportunity arises).
If you would like to explore involvement, please get in touch today by emailing kieran@playaustralia.org.au