Member: Peter Semple of PSLA
Morialta Nature Play and Cultural Playspace is a benchmark project in South Australia that is located within a Conservation Park only 20 minutes from Adelaide's CBD. The brief was to enhance visitor numbers and create playful educational experiences which celebrated cultural and environmental sense of place.
PSLA (Peter Semple Landscape Architect) engaged and collaborated with Climbing Tree (Simon Hutchinson) to develop a unique natural playspace only 20 minutes from Adelaide's CBD.
The design team recognised from the initial site visit that the playspace needed to compliment and integrate seamlessly into an environment that provided so much raw nature play experiences that needed to be celebrated and enhanced. This was an opportunity to create a nature playspace that wasn't sanitised or contained like a suburban playground, but truly tested children's physical and cognitive agility and inspired their imaginations and sense of adventure.
The play elements themselves have not dictated the space or the location required, contrary the terrain, the trees, the creek, the wildlife have dictated the location, size and style of the play elements that they have embraced.
The design intent was to create a series of play nodes that would be graduated in the challenges they present for age and physical ability. The five play nodes are as follows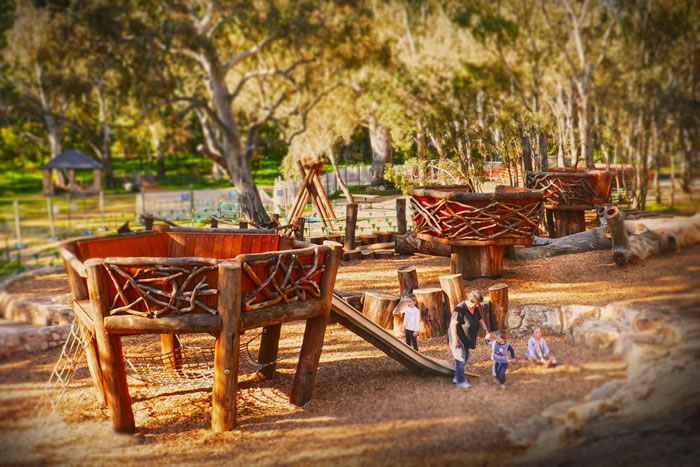 NGUNGANA WARDLI – Kookaburra Hollow (age appeal 2-5)
Kookaburra Hollow is an adventure play zone for children to test their skills in climbing and exploring a series of giant nest hollows.  Each nest provides a different challenge and various height to test all ages and abilities. The nest hollows also offer a refuge to feel secure and observe the surrounding play from the sanctuary they provide.
A giant salvaged sugar gum lies sideways as the centre piece providing a linear organic challenge and connection to the nests.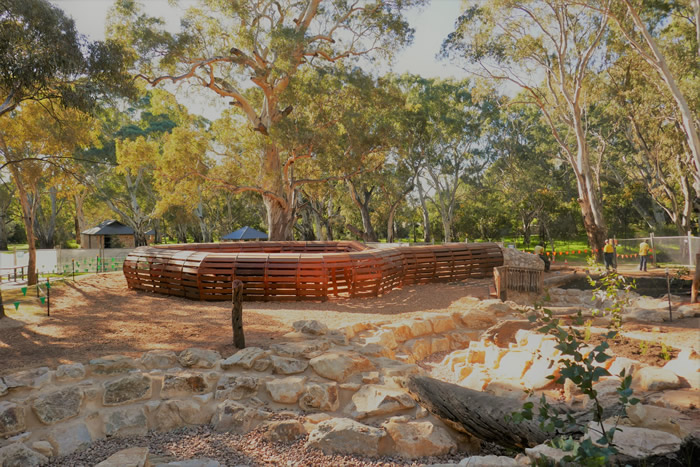 ILYA WARDLI – Red Bellied Black Snake (age appeal 2-5)
Ilya the giant snake provides an imaginative and exhilarating play destination with opportunities to balance along the snakes back, hide in its belly and scramble across its rocky head.
The snake body also morphs into a deep pebble creek via an underground tunnel forming its tail.  This nodes is inspired by the native Red Bellied Black Snake which is found commonly near creeks and streams. Reputed as highly venomous but yet known to be placid and docile when treated with respect.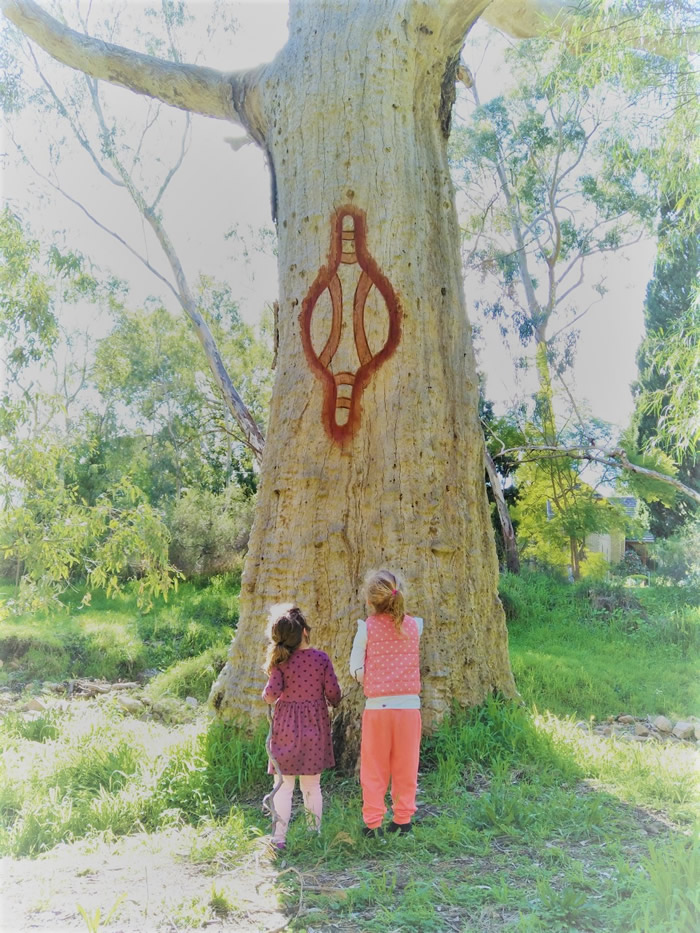 YULTA KARTA – Frog Island (age appeal 1-12+)
Frog Island is a naturally formed island on fourth creek, those with a good ear can hear the chorus of native amphibians
This tranquil destination is shaded by majestic Gum trees that allow filtered light to shimmer on the trickling creek. This nature refuge has historically been a destination for adventurous play for local children over generations.
This untouched remnant landscape was the inspiration to provide a story telling destination for traditional aboriginal culture. Subtle play elements inspire children to construct traditional Wodli cubbies, search for hidden carvings and interact with the creek environment inspiring empathy and understanding of our shared cultures and environment.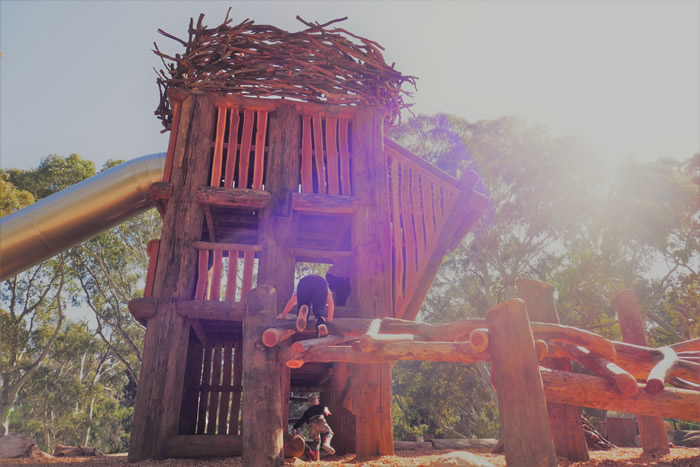 WIRLTU WARDLI – Eagles Perch (age appeal 5-12+)
The Eagles Perch is location high on the hill, set amongst the tallest branches the traditional home of the Wedge Tailed Eagle. This native predator is known to hold local significance to the local Kaurna nation who signify the claw of the eagle as the shape of the Southern Cross.
This play node provides a dominating lofty position and presents a challenging climb to reach the top and be rewarded by the free fall experiences presented by the tunnel slide or fireman's pole, or just site and observe the surrounding environment from a different perspective.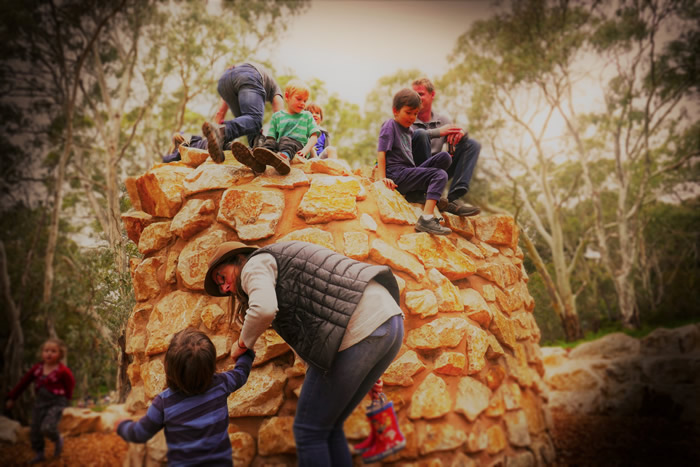 KANYAPURTU – Full of Rocks (age appeal 5-12+)
Morialta is renowned as a rock climbing destination. To further promote this activity and provide a more advanced challenge three large boulders have been created with a hierarchy of climbing difficulty.  Bouldering is a great entryway to the sport and allows for all ages to experience a full body workout. This is the most remote play destination and provides a fantastic vantage point of the entire park; but is still easily assessable and visible to allow children to experience freedom to roam.
Project Team
Client: DEWNR (Department of Environment, Water & Natural Resources)
Landscape Architect: PSLA (Peter Semple Landscape Architects)
D&C Contractor: Climbing Tree CreationsEngineers: PT Design
Artist: Allan Sumner
Playground Auditor: Play DMC