Submitted by

karenwilliams

on 5 May, 2020 - 14:33
"As important discussions start to emerge on how we can improve our neighbourhoods post the pandemic, it vital that we remember the voice of children through genuine co-creation. When it comes to designing great neighbourhoods, what matters to children?" Natalia Krysiak 
In Designing great neighbourhoods: what do children think? Natalia Krysiak has done just that - asked children what they wanted more of.  Natalia reports "At the core of the children's observations were simple desires: less rubbish, safer streets and diverse opportunities for play within nature." And Play Australia agrees whole-heartedly!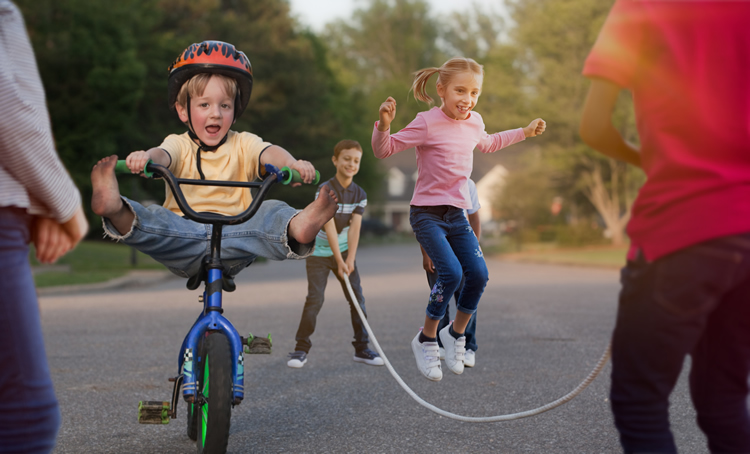 Over the past few months there has been observing streets being repurposed whilst cars have been rested as people work from home. Many parks and local ovals have seen an increase of daily activity. 
Now is our time to press the 'reset' button as we head into the new normal post COVID-19 and start challenging some of the barriers that have been identified during the past few months.  As Natalia so rightly says we need to "provide inspiring solutions for how our cities could be more playful and child-friendly."
A key to this is making our streets safer for play opportunties to take place. Play Australia wants to see Australians reclaim their streets as places to play and connect. 
A group of 103 Australian Doctors, public health and transport researchers have recently signed a public letter to 'call on government to enable safe walking and cycling during the COVID-19 pandemic and into the future'. The letter states that Australia is lagging behind the rest of the world in terms of repurposing streets for recreational and physical activities whilst maintaining the required physical distancing. Some global local authorities have been reducing speed limits and widening footpaths to create a safer walking and cycling environment. Australia has not been as responsive, despite what the public letter states as "the urgent need". 
UK researchers, Professor Alison Stenning and Dr Wendy Russell, have also called for children to have extra localised outdoor spaces by Improving safe access to street space for children's play and physical activity. With playgrounds closed, and likely to remain so for some time, it is vital that children are still getting outside to maintain their health and wellbeing. Their local streets are an obvious alternate playspace. 
Our children are in dire need of increased activity. With 25% of Australian children overweight or obese and one-in-seven having experienced mental illness, a simple and effective way to improve these grim statistics is to encourage and support unstructured outdoor play. 
Now more than ever, let's take this timely opportunity to keep this conversation going and let's make sure our children play #PlayToday and #PlayOutside because #PlayMatters
(PS - Keep an eye out for the renewal of 1000 Play Streets too! Coming together in our streets and neighbourhoods will be so important post-COVID19.)
Would you like to know more and keep up to date with what's happening in Play? Sign up here for our PlayToday eNews!