The Play Warrior Award, is a new award in 2018 and is to be awarded to a person who has courageously supported the provision of quality play somewhere in Australia. Play Australia recognizes that in some environments there are people committed to quality play provision who face considerable difficulty in gaining sufficient resources and support to develop and implement their dreams, and thus our wish to honour such champions of play without whom we would be seriously impoverished.
The inaugural winner of the Play Warrior Award November 2018 is Wendy Seymour.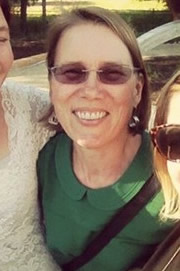 Wendy Seymour was an absolutely inspiring advocate for play, a landscape architect, and a designer of many spaces in WA over the last 25 years, who tragically passed away in 2016.

Wendy was a remarkably dedicated person, dedicated to her family, her friends and colleagues, and her craft of creating the best play spaces.
She worked at Nature Play Solutions. The legacy of Wendy's work will live on in WA – both through the play spaces she already created and also through the knowledge she imparted to her colleagues which will live on in the play spaces to come.