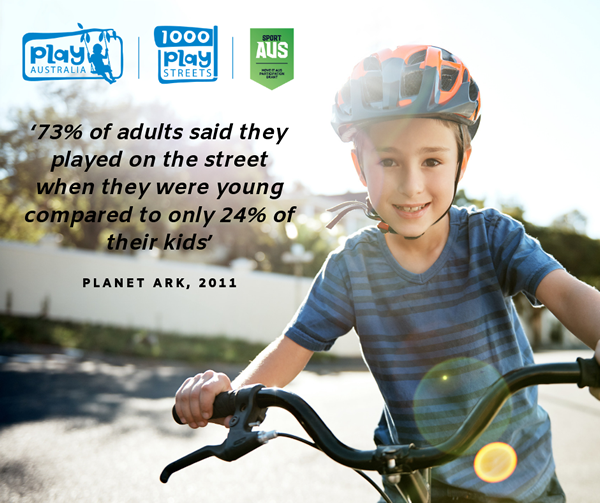 Play Australia, supported by Sport Australia, is proud to announce our council partners who have joined the 1000 Play Streets movement, to help Australians reclaim their local streets as places to come together with neighbours and play, in order to build more active, connected and ultimately happier communities.
Play Australia welcomes Darebin City Council and Moreland City Council in Victoria as well as City of South Perth and City of Vincent in Western Australia, as the first councils nationally to sign up to the 1000 Play Streets movement, delivered in partnership with Latrobe University, CoDesign Studio and Nature Play Solutions.
Over the coming months, these four councils alongside one other council partner in Queensland (soon to be confirmed) will help their communities to co-ordinate Play Streets, with a goal to build local supports and create regular opportunities for residents to come together and enjoy street play.
Barb Champion, Executive Director at Play Australia reflects that in many suburban communities around Australia, outdoor spaces for play are limited due to shrinking backyards or lack of adequate green space, so supporting play in the streets where people live, just makes good sense.
However, street play is not necessarily the obvious choice for many, in fact evidence shows it's in decline with 73% of adults saying they played on the streets when they were young, compared to only 24% of their kids. (Planet Ark, 2011).
To reverse this trend and help more Australians get active on our streets, Play Australia and partners are working together to develop a new 1000 Play Streets toolkit for release in June 2020, to benefit all councils and help activate 1000 Play Streets nationally over the next 5 years.
1000 Play Streets builds on the amazing groundwork of a number of successful street play projects around Australia and internationally, including CoDesign Studio's community-led Play Streets toolkit, the Opal Sunday Street Play project in South Australia, the Rae Street Play Street in Western Australia and the UK's Playing Out initiative, which just celebrated their 10 year anniversary.
"We are so excited by our new council partnerships and we look forward to supporting more councils across all Australian states to run Play Streets in future" says Barb, "and importantly, we recognise the generous support of Sport Australia, under their Move It AUS participation funding, to help bring back street play and build more active and connected communities across Australia."
The Australian Government and Sport Australia are helping Australians to get more active through the $28.9 million Move It AUS Participation Grants program.
Sport Australia CEO Kate Palmer says, "Sport Australia is also investing in grassroots community sporting infrastructure, but one of the most important and convenient places that everyone can enjoy physical activity is in our backyards, streets and neighbourhoods. Every place can be a fun, safe and active space."
If you would like to sign up as a supporter of the 1000 Play Streets movement and would like to register your interest to receive a free 1000 Play Streets toolkit in June 2020 – please email: kieran@playaustralia.org.au
For media enquiries
Kieran Brophy,
Assistant Director | Play Australia
M:0400 982 175
E: kieran@playaustralia.org.au