28 August, 2014 - 09:33

—

Development
Play Australia Board, staff and membership congratulate Cathy Kiss on receipt of the Frank Stewart Distinguished Service Award, the most prestigious individual award bestowed by Parks and Leisure Australia for the significant contribution she has made to the development, promotion and advocacy of the parks and leisure industry in Australia.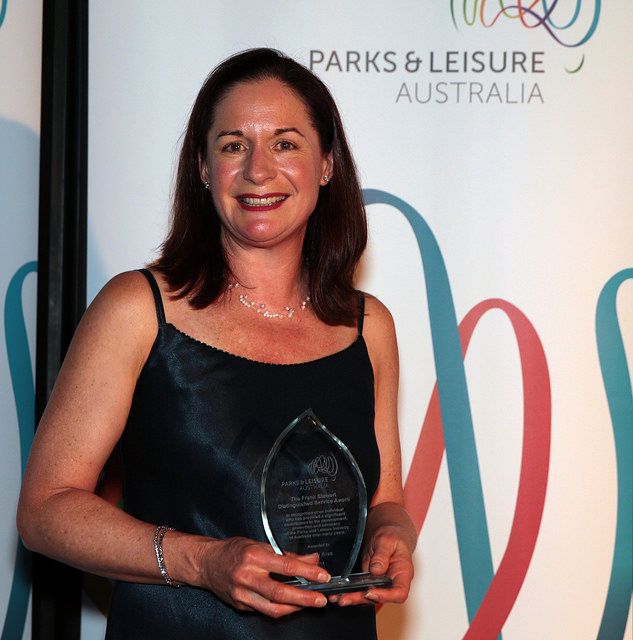 This award was announced this evening at the PLA 2014 Conference in Cairns.
 
Cathy has a Bachelor of Arts in Recreation and has specialised in recreation, planning and management for over 25 years.

She has practical experience in all aspects of open space management - from writing strategies for a municipality to implementing that strategy through the development of recreation environments.  

She has extensive experience and skills in the planning, development and management of sporting and recreational facilities, and a particular passion for children's play.

She is currently employed as a Senior Parks Planner at the City of Melbourne.

She has been a Board member of Play Australia, formerly PRAV, the Playgrounds & Recreation Association of Victoria for 22 years, serving in a variety of leadership roles, including as President for 10 years.

Cathy was the Project Manager for the development of The Good Play Space Guide:  "I can play too" a document produced by the Victorian Government with Play Australia which has been recognised internationally for its quality, and to our knowledge has been translated to date into Japanese and Italian for distribution in those countries.

She has undertaken sessional lecturing at Victoria University for both undergraduate and post graduate sport and recreation students, in Recreation Planning and Management subjects.

She has presented at international conferences, including the NZRA in New Zealand, and the International Play Association Conferences in Hong Kong, Cardiff and most recently Istanbul.  She has been a leader in open space planning at both Victorian and national levels over recent years.

Cathy is most serious about her profession, and has always been prepared to make the time to participate, to motive others, to inspire and to support anyone committed to the aims and aspirations of the parks and recreation industry. The industry as a whole has benefitted hugely from her work over 25 years and she is a most worthy recipient of the Frank Stewart Award.

Congratulations Cathy, we are immensely proud of you and your achievement.